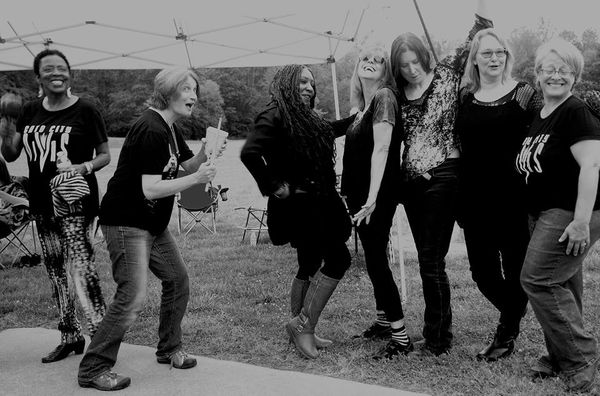 Shiela Klinefelter (Guitar, Bass, Vocals, Songwriter)
Originally from Detroit Michigan, this project producer attributes her love of blues, funk and jazz to her influences: husband Big Bump, Jimmy Vaughan, Albert Collins, B.B. King, and Steady Rollin Bob Margolin to name a few favorites.  Her smooth guitar and smoky vocals add a unique sound to the Diva project.  Shiela is also a recipient of the Piedmont Blues Preservsation Society's prestigious Keepin'The Blues Alive Award. Performing over the last 22 years with The Ladies Auxiliary, Big Bump & the Stun Gunz, and most recently touring with the national act Smokin'Joe Kubek and Bnois King.  Sadly Smokin' Joe passed away in October of this year but not before they recorded a CD, Fat Man's Shine Parlor for Blind Pig Records.  Release date: Jan. 2015.
Kristy Jackson (keyboards, vocals, songwriter)
BMI award winning singer/songwriter, Kristy Jackson, has had singles with artists on Giant, MCA, Curb and Universal including 2 Grammy winning artists. Her music has been featured in films by Disney, Universal and Endemol Productions.  As an artist herself (keyboards and vocals), she had the #1 most requested song on the largest radio stations in New York and other major markets after 9/11, "Little Did She Know (She'd Kissed A Hero)".  She wrote 10 out of the 15 Gate City Divas songs.
Melva Houston (vocals)
Since the American jazz, blues and gospel singer
Melva Houston
made her debut in Germany in 1996, she has been a regular guest in jazz clubs and at jazz festivals each year.  Meanwhile Melva Houston is not just known only by insiders on the Jazz and Gospel scene in Germany but more and more in neighbor countries like Switzerland, the Netherlands and Spain. The demand for her shows have increased tremendously and out of a 30 year touring career she's spent the last 17 year touring in Europe.  Melva's signature jazz & blues sound combined with a band consisting of high-class jazz musicians keeps Melva touring worldwide every year.